I am officially 11 (ELEVEN!!!!!!!!!) days away from getting married and I am also EVEN CLOSER to be OFFICIALLY A NUTCASE!  YEP ladies and gents you are reading that correctly despite my most OCD planning (this coming from someone who plans for a living) I have a variety of things that still need to be done!
So here is my list from this morning for the last 11 day stretch of activities:
Butcher's twine with tiffany blue and chocolate – NEED
Come as you are frame – NEED white to match the Jenn Lynne frame
Photobooth hanger or system – NEED
Jenn watch – NEED
Jenn day of gift – NEED the prep box
Will gift – NEED
Tulle runner – how much do we have in OC? Jenn
Rehearsal outfit – NEED
Cake box or cake set up to raise it up – email to Miss Patti
Thank you stickers – design underway – etsy – APartyStudio
Kisses stickers – design underway – etsy – APartyStudio
Come as you are sign – being printed
Photobooth sign – being printed
sticker order – 
sign pick up –
program print/pickup –
cupcake/thank you assembly –
So I think that the week that I lost fighting with an abscessed root canal/having that sucker ripped out of my face SANS anesthesia might have knocked me back a WEE-bit more than I'd like to think but with the help of an AH-Mazing Matron of Honor I have knocked out some serious progress.  HOWEVER, when I go to check things off my list they are STILL NOT DONE!  Why are they still not done?  Because:
A- I am stubborn and want to have things my way,
B-I want to DIY it,
C-I have a job – a FULL TIME ok MORE THAN FULL TIME job!  You know the thing that has helped pay for this money sucking thing we call a wedding that is right now equaling fighting like two rabid cats!!!  Anyway, I love my job it's fulfilling and I  enjoy doing the work and travel associated with so I focus during the days and then the nights equal half-ing it efforts!
Even if I order the signs, or the stickers or the other things I still have to:
1. pick them up
2. assemble them
3. personalize them and all that takes time, so if I were to give about 2-3 days per step so I'm "taking time to enjoy the preparation of wedded bliss" then EACH one of these activities would likely take me 1-2 weeks!  WE DON'T HAVE THAT KIND OF TIME PEOPLE!!!
What is my walking away lesson for other brides:
DO IT BEFORE YOU THINK YOU NEED TO DO IT AND SAVE THE LAST MONTH – YEP I SAID MONTH, 30 DAYS, 4 WEEKS 4 WEEKENDS!! to do the last minute things that you will still enjoy doing!
And TRY TO SCHEDULE AS LITTLE AS POSSIBLE in the month going up to, I am actually pretty low maintenance no haircut, no hair color, no tanning appointments, no teeth whitening, these are all things that I have heard about other brides do to prep and they just aren't on my radar so if you are adding those things to your list you need to give yourself EVEN more time.  The things that I have listed above are NOT LISTED ON ANY wedding prep checklist, believe me I have them ALL!!
In the past month we have: gone white water rafting, camping, bachelorette partying and honestly we probably should have sat our happy nappy asses in our house to crank this stuff out!!
Much of these things Jenn could completely do without, a favor with a personal note, kisses with personalized notes that say thanks…wha she says…but to ME it's the details it's those little things like a sign at the bar that says "Alcohol, because no good story ever started with once we had a salad"…
That is my story and I am sticking to it.  I have a lot more to share about this wedding but right now I need to NOT THINK!  More soon!
Namaste!
The Wedding Details/Background/Repeating Info for New Readers:
Let me break it down for you.  Our wedding will have about 60 total people  plus DJ, officiant, photogs, day of coordinator and venue manager and we wanted a relatively modest (read – budget friendly) flower budget.  Truth be told if I had more time (like no full time job that I actually enjoy doing during the day) I MIGHT be able to stay focused enough on this ONE day, this ONE run of 12 hours that is getting likely 15K of our hard earned pesos.
 So the theme is Starfish, sandy, Tiffany blue, it's very Lynne (Jenn is being a great sport).  The invitations were designed by my better half at magnetstreet.com and happened to have the exact color combo that I thought was ours (and would give me a little justification for purchasing (continuing to purchase) Tiffany blue.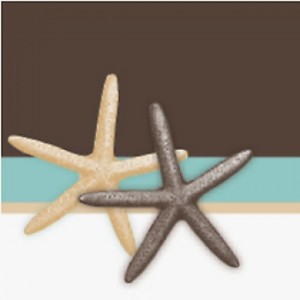 The venue is awesome and we are pretty laid back people so the inspiration was pretty simple and in an effort to be "dressed up" but not detract from the outside view which are the focus.   So on pinterest (strikes again) (If Jenn never hears pinterest or "the knot website said" again she'll be happy. ) had something that was understated but classy.  It because the basis of my design:
Ok coming up in my Adventures of the Type A Bride:
1. DIY Aisle Decor Inspiration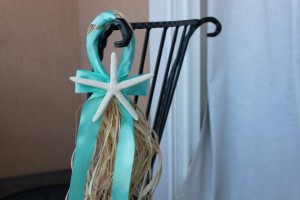 Do you think I can make it look similar to that?  You will see soon enough!
2.  Dress fitting (and the madness that was my quest to get this dress, from preownedweddingdresses,com).  This is before any fittings.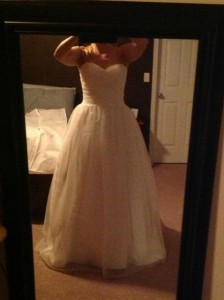 3.  DIY Signage (or outsource maybe) Inspiration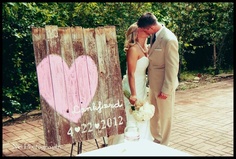 OK Need Rest!
Namaste!!
NOW for the pampering — the Ah-Mazing  BE Society Blog Group SPA Giveaway!
Giveaway is open to Worldwide and Ends September 30, 2013 at 11:59 pm EST.*
*No purchase is necessary! Open WW!18 years and older. Enter in the Rafflecopter Widget! If you have problems using Rafflecopter, be sure you are running the latest version of your web browser and have javascript updated.. Do not attempt multiple instances of entering as all entries will be disqualified. If we are unable to verify your entry, it will not count. Giveaway prize of $300 Spa finder Gift Card (US) or $300 PayPal Cash (WW) is provided by BE Society and bloggers hosting the giveaway are NOT responsible for the prize or its delivery. Odds of winning are based on number of entries. Winner will have 48 hours to respond or a new winner will be picked. Winner will be announce in this post on or about October 4, 2013, you may email Rita@be-society.me for winner list. By entering you agree to the rules of the contest.