I so love this stuff!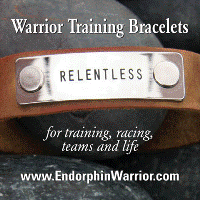 This is feel good stuff!  We all need reminders now and then, these amazing products help remind us with positive thoughts!  What are real customers saying?
"On June 3rd, 2012, I lost my dad who was my biggest fan.  While I was in college over 20 years ago, I was at a point that I was struggling and he told me that I had the strength to accomplish anything I set my mind to.  He reminded me of being a young girl and spending hours out in the yard teaching myself to jump rope.  I worked for hours on end until I mastered that skill.  He told me that was a true sign of strength.  I have a Warrior Training Bracelet that says STRENGTH.  When things get tough in my life – from my workouts to my work or home life – I look at that one word and know that my dad is watching over me.  I know that I do have the strength to accomplish anything I put my mind to."  —  Cheryl J.    Endorphin Warrior customer since 2010
SO THEY ARE GIVING US ALL A DISCOUNT IN HONOR OF THEIR 4TH ANNIVERSARY!  START YOUR HOLIDAY SHOPPING NOW AND SAVE AT THE SAME TIME!!
15% OFF Warrior Training Bracelets
It's the 4th anniversary of our Warrior Training Bracelets.  Now thru Sept. 15th, receive 15% OFF all Warrior Training Bracelets at EndorphinWarrior.com.
Enter the coupon code below at checkout and 15% will automatically be deducted from all Warrior Training Bracelets in your shopping cart.
Tell your family and friends!  They too can receive 15% OFF by entering this code at checkout.
1. Coupon valid only for purchases made from Sept. 1, 2013 thru Sept. 15, 2013.
2. Sale ends at midnight, Sept. 15, 2013 PST.
Shop all Warrior Training Bracelets here 
NAMASTE – WARRIORS!!!