You are lucky right now that I am working on getting some food in my chubby bunny belly (more on the chubby bunny a bit later)…because if I was hungrier or if it were earlier in the day this post might NOT be so kind (and warning it still won't be).
Let me break it down for you.  Our wedding will have about 60 total people  plus DJ, officiant, photogs, day of coordinator and venue manager and we wanted a relatively modest (read – budget friendly) flower budget.  Truth be told if I had more time (like no full time job that I actually enjoy doing during the day) I MIGHT be able to stay focused enough on this ONE day, this ONE run of 12 hours that is getting likely 15K of our hard earned pesos.
 So the theme is Starfish, sandy, Tiffany blue, it's very Lynne (Jenn is being a great sport).  The invitations were designed by my better half at magnetstreet.com and happened to have the exact color combo that I thought was ours (and would give me a little justification for purchasing (continuing to purchase) Tiffany blue.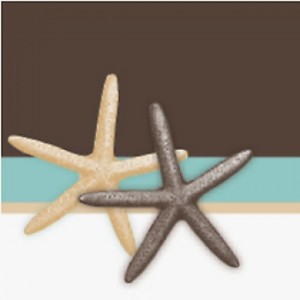 The venue is awesome and we are pretty laid back people so the inspiration was pretty simple and in an effort to be "dressed up" but not detract from the outside view which are the focus.   So on pinterest (strikes again) (If Jenn never hears pinterest or "the knot website said" again she'll be happy. ) had something that was understated but classy.  It because the basis of my design: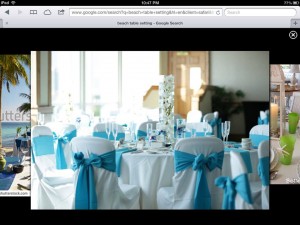 I really liked the cylinder with water and uplighting in the center.  I was ok with the flowers being silk and MOH (my other half) said that was tacky so we added two additional cylinders, and we added sand, and we added starfish and we added the floating candle  and then …ok the last is the submersible light.  Well the quote for the flowers came back a little high so I took some of the items out of their scope and said we'd get them ourselves.  Specifically we're providing: 1. mirrors, 2. sand, 3. starfish, 4. submersible lights, 5. starfish, 6. ribbons for the bouquets, 7. charms for the bouquets, 8. aisle decor and by providing all of these we saved about $750 total.  Was it worth it, ahh yea ok sure (shaking my head no while saying yes).
So to help the florist understand my thinking we had these pictures ready to show them:
So we paid them half the money and anticipated that since we are now about a month out they'd say ok we need these things (and list the items I listed above).  So Jenn stops by the shop while she is in the area and they promise to send me an email with things that they need.  So what do you think that I got?  Drum roll….here is it….
"Just a follow up on the  flowers for your wedding…. I have a bridal bouquet , memory bouquet, and five bridesmaids.
Boutonnere for Jenn, and 2 ringbearers….. are we still doing brothers ? and Gretchen ?
All the centerpieces are good to go …. all you need to do is bring us the mirrors if you want or you can take them to
The Lighthouse, whatever is good for you. The only other thing we need as time gets closer is the lace for Lynne's bouquet.
Let me know where and when you want the bridal flowers delivered . If you have any other questions please give me a call
at work or on my cell (XXXX) Hope all is going great with your plans."
I literally could only shake my head…so the names were right HOWEVER where is the rest of the stuff that they need from me?  When did I add lace to my bouquet?  Let me answer that for you, NEVER!  So I am taking a few moments (ok A DAY to) breathe (and write a lessons learned blog post).  I will regroup and send a nice (as nice and I possibly can be) email back tomorrow.
LESSON LEARNED: AS YOU LEAVE APPOINTMENTS WITH VENDORS:
1. MAKE A LIST, VENDOR x LIST:1, 2, 3, BLISSFUL COUPLE LIST: 1,2,3
2. THREE HOLE PUNCH THAT BAD BOY
3. INSERT IT INTO A BINDER
4. WHEN YOUR ONE MONTH TO M DAY HAPPENS = YOU WITH A SMILE AND NOT A RED FACE FROM BLOOD PRESSURE
ok taking a deep breath and stopping with the yelling!
Ok coming up in my Adventures of the Type A Bride:
1. DIY Aisle Decor Inspiration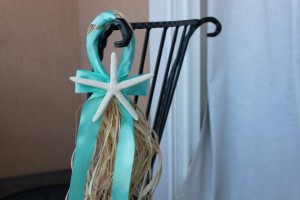 Do you think I can make it look similar to that?  You will see soon enough!
2.  Dress fitting (and the madness that was my quest to get this dress, from preownedweddingdresses,com).  This is before any fittings.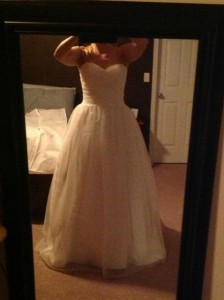 3.  DIY Signage (or outsource maybe) Inspiration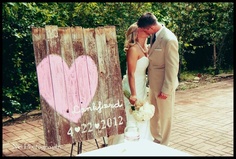 OK Need Rest!  Namaste!!
NOW for the pampering — the Ah-Mazing  BE Society Blog Group SPA Giveaway!
Giveaway is open to Worldwide and Ends September 30, 2013 at 11:59 pm EST.*
*No purchase is necessary! Open WW!18 years and older. Enter in the Rafflecopter Widget! If you have problems using Rafflecopter, be sure you are running the latest version of your web browser and have javascript updated.. Do not attempt multiple instances of entering as all entries will be disqualified. If we are unable to verify your entry, it will not count. Giveaway prize of $300 Spa finder Gift Card (US) or $300 PayPal Cash (WW) is provided by BE Society and bloggers hosting the giveaway are NOT responsible for the prize or its delivery. Odds of winning are based on number of entries. Winner will have 48 hours to respond or a new winner will be picked. Winner will be announce in this post on or about October 4, 2013, you may email Rita@be-society.me for winner list. By entering you agree to the rules of the contest.