Studio Gear is a great line of skin care and cosmetics that I used even before this review! I love their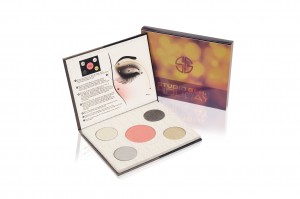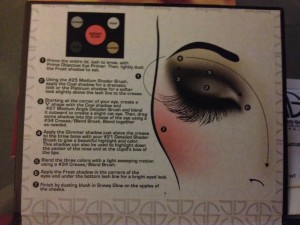 I tested the Holiday Studio Gear Palette and receive the product to try complete with the handy "how to" on the top flip opening of the package. It retails for $40 but is on sale for $25 and now with a Starfish Chic readers code you get an additional 10% off!!
The Holiday Palette comes with 4 pigments and one blusher to create a shimmery and deep night time look or go lighter and make a fresh "dewy" look! The lid even includes which shades should be used where. The pigments included Platinum, Frost, Coal and Glimmer and includes Snowy Glow as the blusher. I tested the Studio Gear Eye Primer (a Studio Gear product I already owned) and the shades are definitely more intense when using a primer. Check out these photos. If there is an additional intensity consider blotting or stippling the color into place or apply wet directly to skin (no primer).



ABOVE APPLIED WET (primer on the left)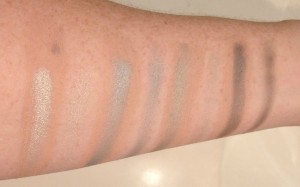 ABOVE APPLIED DRY (primer on the left)
But the colors can be very subtle and shimmery just with direct application to the skin.
This is a great quality, inexpensive palette that you can use now and through the holiday season! I can see myself using the palette WAY into next year!
http://studiogearcosmetics.com/shop/eye-make-up/holiday-smokey-eye-palette
Reader Discount: 10% Off
Reader Discount Code: SGHOLIDAY
Studio Gear Cosmetics
http://studiogearcosmetics.com/
Founded by industry veterans Steve Rohr and John Avolio, Studio Gear Cosmetics is a prestigous cosmetics brand featuring a full collection of professional makeup brushes, revolutionalizing complexion formulas, and a wide selection of color products for the eyes, cheeks, and lips. Since 1996, Studio Gear has been on set at hundreds of professional photo shoots, in the beauty departments of Bloomingdales, Macy's, Dillard's, HSN and ULTA, and also in the everyday woman's makeup bag. This is a line created true to the concept that every woman deserves professional, high quality cosmetics at a reasonable price.