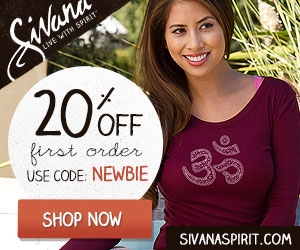 Sivana's motto is "Live with Spirit", how cool is that?!  If we all lived in a place and from a place that was aware of not only ourselves but of others as well!  The amazing changes that could occur are unimaginable!
Most people are aware I say (in a dramatic tone usually) that yoga saved my life.  That MIGHT be a bit dramatic but having the moving meditation seriously helps my stress levels and with this type A personality that is no small order!!  This amazing company is offering us a 20% off code for your first order "NEWBIE" is the code!  Let me know what you get and how much you love it!!
NOW for the GIVEAWAY!!  Note: doesn't start until tomorrow!!
One lucky winner will win
(they are the first 6 displayed on the page).
-Date:  Sept. 9 to Sept. 30
We appreciate the support of our sponsor, please show your support by following them on their social medias pages.
Disclaimer:
Starfish Chic
is not responsible for the awarding of the prize.  Sponsor is responsible for prize fulfillment.  If you have any question about this giveaway, please email the host at nysavingspecials@gmail.com