BA STAR a company based on the East Coast with a focus on "Convenience, Value & Customer Service". They encourage all "Cheerleaders, Dancers, Competitors & Trend Setters" to "be Creative. Try Something New! Never be Afraid!"
BA STAR sent me a "Holiday Red" Lip Pencil to review and are offering Starfish Chic readers a 50% discount (use Code: BBLIPS) (This discount applies to full retail pricing).
I tried the pencil and was really impressed with how it provided full coverage and filled in even covarge and didn't leach any moisture from my lips! The color was very bold and it is a pink toned red (not an orange-red). The results were very dramatic and for performers who need to have that pop of color on their lips this would be awesome! In addition, it didn't rub off on drinking cups or white teeth so that was a great plus too! The color lasts and lasts even after rubbing with tissue (but that's a good thing for performing)! I used the pencil not only to outline but also to fill in the color on my lips.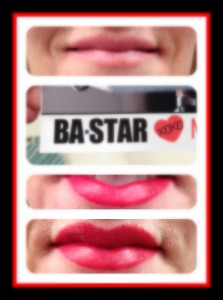 At a cost of $8.75 this is quite the bargain I bet it will last forever! You do need to be able to sharpen the pencil but it will last through definitely more than one season!
They have a free shipping offer on items above $50 and getting a variety of colors with the 50% means you'll be able to get $100 dollars worth of make up for $50!!
I'd love to try a different color to go out or even to work with the gloss I bet it would be amazing! Check out www.BaStar.com today!
BA STAR says "Strut your stuff on stage, on the runway or at play! BA STAR is the #1 makeup for performers, dancers & cheerleaders".
This is a Sponsored Post, I received the product from BA STAR to review.
Brandbacker powered.