SUPPORT AN UP & COMING "GO TO" company for your HOLIDAY Shopping!
The ADORAtherapy Mood Boost™ products have been featured on Dr. Oz's website:
YOUbeauty as "Aromatherapy That Really Works". Beauty Store Magazine has awarded them Best Seller status. The brand has also been featured in the New York Post, Open Sky, Living Smart Girl, Jet and many more publications and websites.
"Mood Boost™" is the answer to the "quick fix" that women and men seek from energy drinks, beauty products, coffee and chocolate.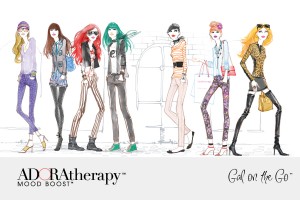 I received a 10ml ADORAtherapy "Smart" Gal on the Go Mood Boost™ from the Company for review.
Its Lemon & Grapefruit top notes enable you to create a more affirmative you, a "you" who commands the brilliance and determination to succeed in all situations.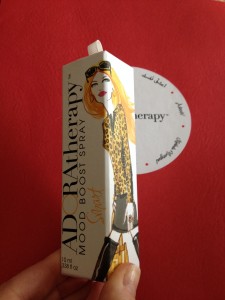 NEW Gal on Go Mood Boost™ — 7 sprays let you be ready to take life on without slowing you down! Make sure you're in a great mood when you take on the day!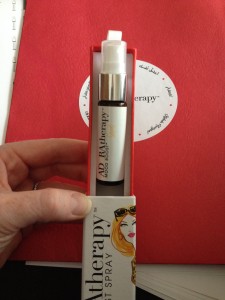 The "Smart" Girl on the Go product I received is one of seven Mood Boost Sprays including, Seductive, Beautiful, Smart, Balanced, Inspired, Awake and Peaceful. They are all packaged in a beautiful matchbox with a fabric pull with reminders of mantras ("Smart" says "I AM a CONFIDENT and articulate problem solver") that can be used in your routine to get back to your balance and back to the "Adore Yourself" state in which you are able to function at your highest level.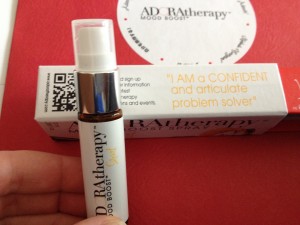 The fragrance level was great, the notes uplifting without being overpowering and the packaging make it ready to drop into a gift bag with just some crinkles and present, it's ALREADY gift packaged!!
More about the products!
ADORAtherapy has five collections:
1. Gal on the Go Mood Boost – This collection inspires you to smell great, feel great and be great. (10ml)
2. Chakra Boost – I Belong, I Feel, I Can, I Love, I Speak and I See – These formulas are great for "restoring balance and harmony with innovative, alchemical formulas". (10ml)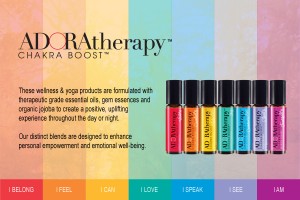 3. Good Mood Boost – (formerly named Clear Away Essential Spray) – This "synergistic formula was created with organic essential oils and diamond gem elixir for clarity and purification. The fresh and clean aroma can create a good mood in any environment. Top notes of Lemon, Grapefruit, Sage, Peppermint and Lavender this product's benefits cleanse, refresh and revitalize." THIS IS MY NEXT MUST HAVE PRODUCT!! (120ml (home) or 10ml (travel))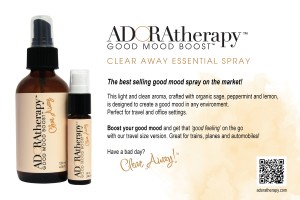 4. Stress Free Boost – Take the Tranquility and Rejuvenation of the Spa Experience everywhere you go with Stress Free Boost. This collection was inspired by the waters of Bermuda. (60ml (oil) and 120 ml (spray)).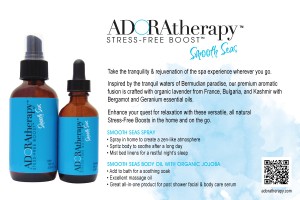 5. Passion Boost – Indulge you sensual nature and experience more passion and zest for life with this rare and exotic combination of sandalwood, neroli and jasmine. (60ml (oil) and 120 ml (spray)).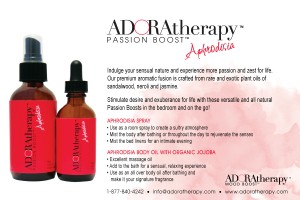 The parent company Opus Gaia is passionate about "clearing the way for every individual to experience his or her highest potential through the use of their aromatic blends" their "tools for transformation". A great ally in our efforts to being "better us' s"!
Opus Gaia and ADORAtherapy "create products from pure ingredients that support the growing trend toward natural, organic and eco-friendly products – supporting a healthier environment and a happier and healthier you! I totally dig the company's mission and focus and am excited to be able to help support it!
GET THESE PRODUCTS NOW AND SUPPORT THEIR COMPANY GROWTH!!
 If you pledge a certain amount today by going to their Indiegogo site by clicking —> HERE, ADORAtherapy™ will send you the following prizes:
PLEDGE $5 or more — "Adore Yourself™ " Wristband, made of 100% silicone
PLEDGE $15 or more — Gal on the Go Mood Boost™ in your choice of 7 scents
PLEDGE $30 or more — Travel & Office Good Mood Boost™ (120 ml size/10 ml)
PLEDGE $35 or more — Gal On The Go Mood Boost™ Spray & Screen-Printed T-Shirt
PLEDGE $45 or more — Gal On The Go Mood Boost™ Spray & Two Tone Deluxe Tote Bag
Go to their Indiegogo site to see the other PRIZES you can WIN —> HERE!
Adora Winquist, CEO, Founder and Chief Formulator of ADORAtherapy Mood Boost™, has pioneered the combination of aromatherapy and energetic healing, creating formulas with aromatics made from plant products around the world to stimulate the senses in a way that awakens the joys and passions of humanity. She has been in practice as an Energy Healer and Aromatherapist for over 15 years.
This sample was provided courtesy of http://www.BeautyStat.com